Firstly I must confess I have never, in my life, used a stick foundation before. This goes a long way to explain why I seem to have bypassed the "light coverage" stage and skipped straight to "fuller intensity". I had already drawn the stick all over my face like a four-year-old with a new Crayola when I realised I'd essentially iced my face like a wedding cake. Whoops. This was not my first blending emergency so I reached straight for my trusty foundation brush. I'm not sure if I had applied too much or if it was the product's creamy texture but the foundation brush was not blending the product out properly. Damp beauty blender to the rescue. This foundation gave amazing coverage and I didn't need concealer or powder, it did all three jobs in one product. On reflection, I should have started with just a little and added whilst blending.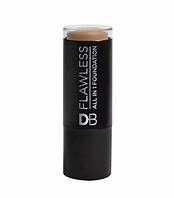 The cheek and lipstick scared me slightly as the last time I tried to use a cream blush I looked like a French aristocrat heading to the guillotine. Having learnt my lesson from the foundation I started off with a very light swipe just below each cheekbone and blended with the bottom of my beauty blender. This gave a beautifully sheer and buildable result with no gaudy clown cheeks in sight.
WIN WIN WIN:
To win what I'm wearing head over to our Facebook page and comment on this post telling us why you'd like to win a brand new foundation and blush from DB cosmetics and they could be winging their way to you soon.
**This competition is now closed**