By Juliet Macmillian
Nothing quite beats a flawless base.
With textures, formulas and pigmentations rapidly progressing, it's hard to figure out which foundation will work best for you. It's not only our base products which are changing, your skin changes with time too.
Here are some of the top foundations for different age groups and skin types.
Ages 15-25
Dry: Maybelline Dream Urban Cover
This foundation is full-coverage, yet provides an impressive amount of hydration and protection. Not only is this formula equipped with SPF 50, it also contains antioxidants to protect your skin from external aggressors. Dream Urban cover is one of Maybelline's most recent foundation releases. Although this base will provide a flawless finish, I recommend a light dusting of powder along the t-zone due to the heavy-duty SPF.
Normal: EX1 Invisiwear Liquid Foundation
This foundation provides full-coverage, has a great range of shades and lasts well throughout the day. Despite the full coverage, this product becomes almost undetectable upon application (partially due to the oil-free formula). I especially recommend EX1 base products for those with warm to yellow undertones. Note: no SPF in this foundation.
Combination or oily: Bourjois Air Mat Foundation
Bourjois Air Mat foundation is medium coverage, but is buildable to a full coverage.
For those with slightly more oily skin, this product will provide a beautiful finish.
Despite it being mat, the product does not feel dry or flat. Note: no SPF in this foundation.
25-35
Dry: Bourjois Healthy Mix Serum Foundation
Bourjois' iconic and most sold foundation has always been the Healthy Mix Foundation since its launch. However, some complained that the formula was too dry. The Coty-owned brand listened to the feedback and gave birth to a younger sister: Bourjois Healthy Mix Serum Foundation.
In a nutshell, the serum variant provides all of the benefits of the original, with an extra dose of moisture and luminosity. Bourjois Healthy Mix foundation provides a light coverage, with no SPF.
Normal: Chanel Vitalumière Aqua Ultra-Light Skin Perfecting Makeup
This is a difficult one to write about, as I am not sure I will find the words that will do it justice. My love affair with this product started in Edinburgh in 2011, when the product had just been launched. I remember the excitement when my fingertips first made contact with the elegantly fragranced fluid. Light coverage without sacrificing luminosity, hydration without oiliness, SPF (15) without the weight. Our romance remains ongoing in 2020.
Combination and oily: Max Factor 3-in-1 Foundation
Medium to high-coverage, SPF 20, long lasting and reasonably priced. If I were to compare this foundation to an acquaintance, she would be the reliable friend who keeps you grounded.
Side note: The 3 in 1 name lends itself to the idea that this product is a primer, foundation and a concealer all in one product, however, I wouldn't go that far. Get your under-eye concealer ready.
35-50
Dry: YSL Touche Éclat Le Teint
This base product provides a light to medium coverage whilst adding a 'glow' similar to the iconic Touche Éclat concealing highlighter pen. This is mainly due to an infusion of light reflecting pigments and hydrating agents. Despite claims, however, I would not recommend building this foundation up to a full coverage as it may feel heavy and oily (contrary to official claims). Having said that, if used on a suitable skin type and in the correct way, this foundation can provide an immaculate base. Note: no SPF in this product.
Normal: Sensai Cellular Performance Cream foundation
This full-coverage foundation is more than just a foundation; if your best moisturiser married your favourite foundation and had a baby, they would have created Sensai Cellular Performance Cream Foundation. All of Sensai's products are created with Koishimaru Silk extract- a potent Japanese anti-aging weapon known as 'celestial fabric'. Along with a high dose of hyaluronic acid and many other skin caring ingredients, this creates both a nourished and flawless base.
Combination and oily: Chanel Ultra Le Teint Velvet
This light to medium-coverage 'teint' is perfect for combination skin. Although it provides a beautiful finish, it feels weightless. It contains blurring powder molecules to even out skin texture and irregularities. The consistency is similar to the Vitalumière Aqua, but with a matt powdery finish. It also contains SPF15.
50+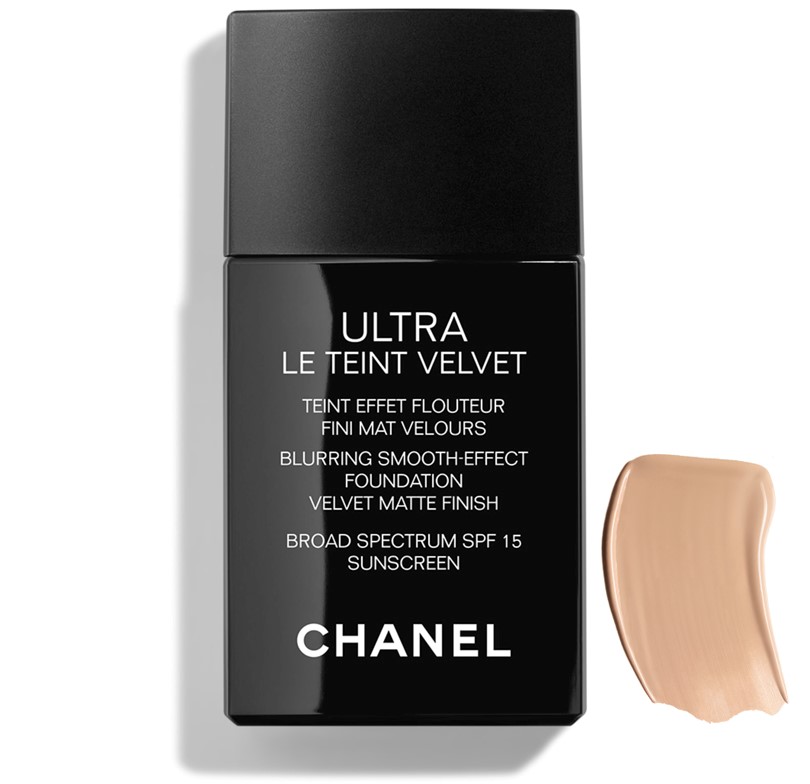 Dry: Chanel Vitalumière
In my experience, this is a bit of a marmite product; you either love it, or you hate it. I have never heard someone speaking indifferently about this product during all my years in the beauty industry. Don't let the name mislead you, as this product couldn't be more different from the Vitalumière Aqua! This fluid foundation promises hydration and comfort- perfect for drier skin types. It provides a radiant finish, with soft-focus illuminating particles.
I would say this foundation provides a light coverage, although officially it claims to be medium coverage. I would try to discourage anyone from trying to build this product up to anything beyond medium, as you run the risk of resembling a disco ball; you have been warned. For the right skin, this foundation can be perfection in a bottle. Note: SPF 15.
Normal: Chantecaille Future Skin Oil-Free Gel Foundation
This full coverage foundation comes in a luxurious pot, and is brimming with skin-loving ingredients such as green tea and rosemary. Whilst it hydrates the skin, it is suitable for multiple skin types due to its feather-light oil free texture. It does not contain SPF.
Combination and oily: Becca Weightless Blur Foundation
This foundation creates a buildable medium-coverage, but sits seamlessly on the skin. Infused with hyaluronic acid, ginger, avocado and melon, it promises to brighten and even the skin tone.
It is most suited for normal to combination skin tones due to its pore-blurring pigments, which result in a demi-matte finish.
Tip: Mix this with a drop of highlighter or cream for a lighter, dewy finish.