Interviewed and photographed by Kerry Curl.
Morwenna Farrell is a creative based in Norwich, U.K. She is the heart and the founder of her own business which fuses illustration and fashion. Sourcing vintage pieces, the designer adds her illustrations via screen printing and each garment is printed by hand, by Morwenna herself.
It's an upcycling approach, however her aim is not to completely rework the pieces, the desire isn't to remake a whole new garment which begins a new life unrecognisable to what it once was. It's more about celebrating what the item already is. It's almost like she finds something she loves, a jacket or a blouse and shows it some Morwenna love.
Her ethos is not about disguising the garments it is, for example, an 80s blouse or a 70s dress, it's about embracing it for what it is – hand sourced second hand fashion with an art twist. It's something that's been sealed with a loving Morwenna Farrell shaped kiss.
I sat down with Morwenna to find out more about her work.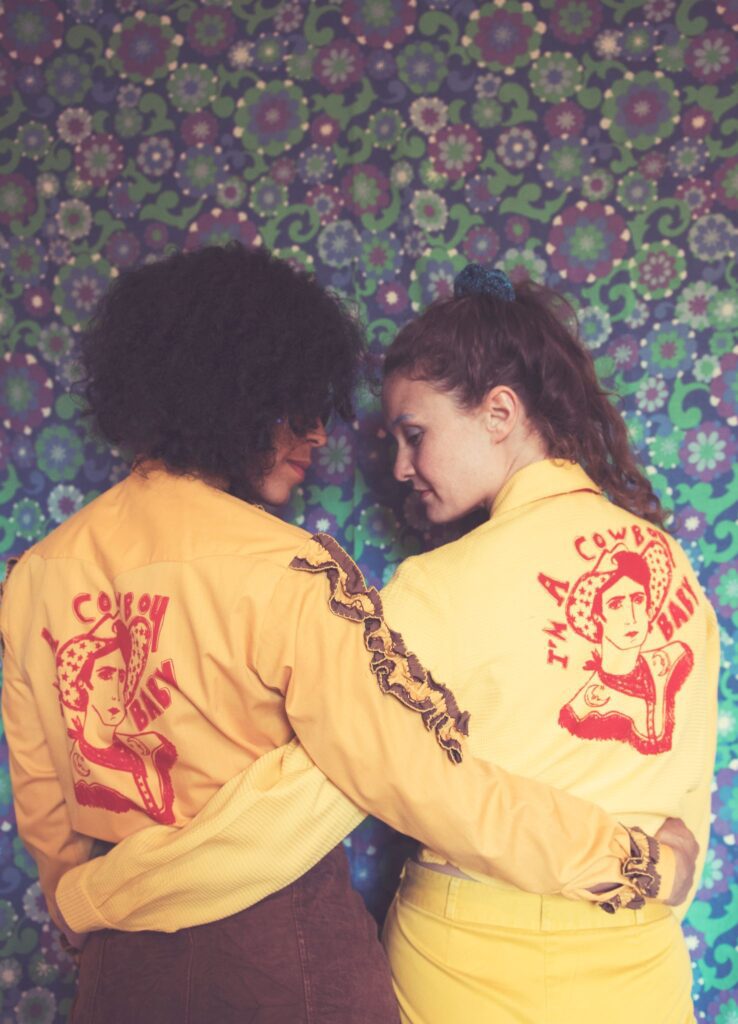 Your work blends fashion and art, what do you describe yourself as?
OOOooo hard question (I always struggle with this haha)
Ok so I would say vintage upcycling and screen printed illustrator with a western twang, who creates one off ranges of wearable art for all shapes and sizes!
Your pieces have a real retro feel, where or who do you take your inspiration from?
Where – Hmmm so probably charity shops is my go to place if I feel lost or uninspired I always find some kind of antique or item of clothing that sparks off some crazy idea.
Music sparks off my visual sketchbook of ideas from phrases that I want to illustrate to music videos I create in my head from them. Movies are another big inspiration to me, the clothing mainly and again the aesthetic and lastly travel especially my trips to the USA and just getting out the house.
What's inspiring you right now?
Painting, I have recently felt like painting again, I have lots of vintage frames that I paint directly onto the wood to create gorgeous natural textures. I find it super relaxing in these strange times so I guess the need to escape is inspiring me right now as I can't travel.
What made you decide to start your own label?
It has always been a dream of mine right back to being a kid and having to jazz up clothes as I couldn't afford brands then. Luckily as I grew older it all kind of made its own path for me and before I knew it I was doing just that.
When did you start introducing reworked second hand and vintage pieces in to your collections?
Hmmm probably properly I would say 2014 (ish) I started getting really into screen printing and my vintage jacket was sat on the side in the studio and I just grabbed it and upcycled it and that is where it started…
What does sustainable fashion mean to you?
It is a natural way for me to work, I love the beauty in vintage and would rather pick nice quality pieces over new ones and give them a new purpose and meaning. It is very important for me to know where my clothes came from and to use and upcycle them so they don't just end up in landfill. I even use scrap or holed T-shirts to create my clothing tags, I try and not waste a thing.
What are the challenges and benefits of running your own label?
Challenges – juggling this with my day job and knowing when to switch off …Lockdown has taught me just how much I juggled both jobs, my clothing brand is a full time job in its own right and I have such a passion for it that I will without realising, be working pretty much most of the day whether it is admin, prepping post or social media planning.
Benefits – I get to do what I love, if I ever get an idea I can make every decision and stay true to me. After being so unhappy in a job that was awful I will always be thankful and love making and creating.
You really utilised Instagram during the lockdown, including using it to have online launches of new collections. How has that worked for you and how does it compare to having a physical pop up?
Lockdown has really helped me have a good go at doing things a little more slowly and really take my time on designs to get it right.
My lockdown launch was great and I was very lucky with all the support, it was truly overwhelming. It was also a massive eye opener for me and highlighted how many of my customers are not based in Norwich and are actually from all over the world! This has really made me realise there will be people who will always miss out on my new collections as historically I've released these at my pop up shops at Studio 20 in Norwich.
The majority of my pieces are one offs, when they are gone they are gone. I very much treat my pop up events as a live launch, I usually don't photograph and list the collection before a pop up but the online launch going so well has made me think how best to do this going forward.
But compared to an actual physical pop up, it isn't the same, I am a real people person also I love meeting people and seeing them try outfits on, so the whole atmosphere of it just isn't the same really. I love to decorate the pop up space and create a sort of shop set up where people can come in, and for me it feels so good to see my stock in a proper space.
What are you working on next?
Eeeeep I have some beautiful vintage off cut fabric purchased from a lovely vintage shop in Norwich called Junk and Gems and I am creating some one off wall hangings with it, I'm screen printing using gold ink… so I'm exploring some home décor ideas.
I have been busy sourcing and upcycling a 70s western range for another virtual vintage drop and I also have a few vintage pieces that will be up for grabs that cannot be printed onto but I had to get them for my customers as they are amazing.
I've recently sourced a small children's vintage range and I just need to get a photoshoot sorted for it which I'm really excited about.
Halloween is coming, so I have a couple of designs knocked up for this, there's a 70s T-shirt range, I am just sourcing the right eco ringer tees and lastly I have already got a smoking hot range sorted for AW2020 I just need to create a couple of new designs to go alongside it.
Where do you see yourself in five years time?
I hope doing this as my sole job, having lots more fun commissions for bands, I just adore this, as each brief is the same yet completely different! Music commissions aside I also hope to find a few shops where I can stock my stuff around the UK and worldwide!
Any advice or thoughts to share with fellow creatives as we try and work our way through 2020?
Be true to you, do what you want and be happy!
Times are strange but don't be afraid to try new things
Sometimes social media can have its downfalls such as comparing yourself to other artists and wondering why you are not as successful…This way of thinking is only going to stop you making and creating, push through it and be your own success.