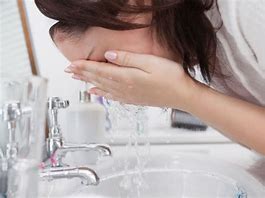 We all know the cardinal beauty sin is not taking our makeup off before bed. However we also know nights out in town happen, tequila shots happen, telling strangers in the bathroom you love them happens, trying to order a kebab through the medium of arm waving happens, and waking up freaking out that the false eyelashes on your pillow are massive spiders inevitably happens.
The gorgeous goddess that left home last night has been replaced by a down on her luck clown and you can feel the break outs and flaky patches already forming. Don't panic, this is the real girls guide to rescuing your skin and bringing it back to its full glory using products you likely already own.
First of all, drink a big glass of water, not only will this ease the rabbit cage feeling in your mouth and throat it will also hydrate your skin and flush out your system.
Next jump in the shower, you're not going to feel human again until you do so best to get that out of the way. Before you do anything else remove most of your old make up with a thick creamy or foaming cleanser. Get right up into your hairline and around your jaw. After you've washed the worst of it away you'll need to exfoliate. I'm uncomfortable using exfoliating washes for environmental reasons so I use an electric facial cleansing brush (available from most electrical retail outlets, I highly recommend you invest if you haven't already) I like to put a rich face wash on mine, but whatever you have in the bathroom is fine as long as the brush doesn't dry out.
By this point you're probably doing a pretty reasonable impression of Alice Cooper. Grab a cotton pad and an oil based make up remover. Oil based works better at removing even water proof eye makeup than water based remover. If you don't have any handy, coconut oil is a good substitute.
Now your face is squeaky clean you can opt to use a face mask, however I find this too much time and effort when I already feel like I have 15 hamsters in my head and my best friend is on her way back with a cheeseburg… super charged green juice. As I have dry skin I like to splash a little rose hip water on my face but any soothing toner or spray will do the trick. The last part of this is of course a good moisturiser. Alcohol, lack of sleep, layers of makeup and dehydration all play havoc with our skin and it will be crying out for some TLC. Face oil such as organic rose hip is a great choice to soothe and repair. Use your fingers to gently massage the oil in small circles including the under eye area. Do this for a couple of minutes to really work the oil into the skin.
When you feel like you're dramatically dying, this may seem like a lot of effort but I promise you it will take no longer than 15 minutes and you will thank yourself on Monday when you go to work not looking like an extra from Dawn of the Dead. Let us know your favourite skin care tips in the comments below.